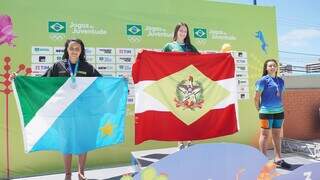 On Sunday, the Mato Grosso do Sul delegation won two more medals at the youth games for athletes aged 15 to 17 in Aracaju. The state won silver in the 200-meter swimming with Bruna Ramos Scaf, and bronze in the 800-meter athletics competition with Ana Laura Cordeiro.
In the water, Bruna clocked 2m28s65, ahead of Vittoria Simioni, from Santa Catarina, who closed the race in 2m27s41. "This silver means a lot to me. Only I know how much I dedicate myself to training every day in order to reach that level, a medal in this important national competition," says the 16-year-old swimmer.
In the final round of the Brazilian Under-18 Athletics Championships, fourth-placed Ana Laura Cordeiro arrived in Sergipe to take the podium in the 800m. And he did it after finishing the race in 2m23s710.
"I was quite worried, but nothing that affected me on the track and I was able to achieve my goal. It's a privilege to represent my state and my city and to put them on the podium," says Ana Laura. Both competitors are covered by the Bolsa-Atleta program.
In total, the Mato Grosso do Sul delegation has already secured three medals in the Games. In addition to these two this Sunday, Amanda Campos Abdallah won silver in the 200m butterfly on the first day of competition.